"We'll Clean
YOUR HOME
as if it were Our Own!"
10% OFF PLEX MASTER! CALL NOW!
FILL OUT THE FORM BELOW TO
PAY ONLINE
!
As one of the oldest and most reputable cleaning companies in Charleston, South Carolina, Pressure Wash King owned by David Ferguson has been cleaning homes in both Charleston, and the whole lowcountry/tri-county area, for 35 years. Our cleaning company pressure washes vinyl-sided homes, awnings, driveways, stucco, brick steps, Barbeque pits, wooden fences, gates etc. We thoroughly clean homes and leave them looking brand new! We have years of experience in pressure cleaning both residential and commercial places.
Moreover, we offer additional cleaning services such as the "sparkle window wash" which we offer to our clients' windows and is guaranteed to leave them spotless. On top of all of these services, we also offer "Plex Master" which is similar to waxing and prevents the grime, dust, and mold from accumulating on surfaces in your compound. The best part about working with us is that we offer high-quality cleaning services at affordable prices, as we have been cleaning homes for more than 3 decades now, and have therefore sharpened our skills through servicing more than 20,000 homes.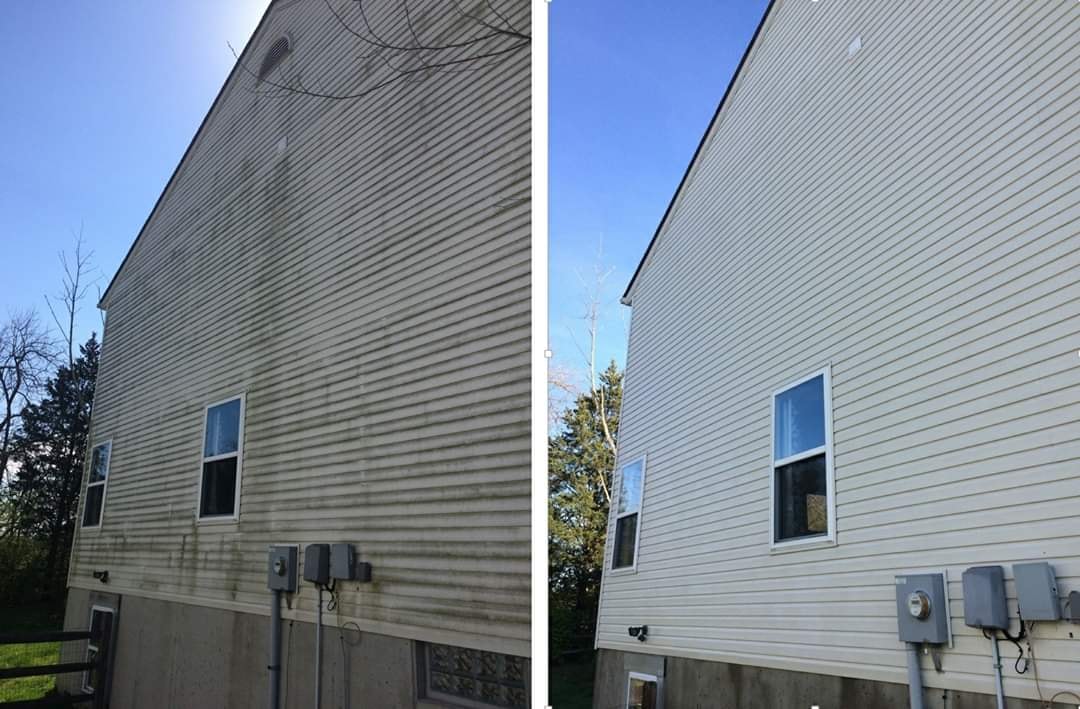 -High Quality Pressure Washing-
Additionally, Pressure Wash King ensures that all of the mildew, dirt and bugs are removed from your home exteriors, as the exterior of homes drastically changes over time because of certain weather conditions. Mold, grime, and mildew start to accumulate on the surfaces, which not only destroys the paint, but also makes the home appear unattractive. We offer pressure cleaning services that enhance the durability of walls and surfaces, as well as prevent dirt from damaging the exterior paint.
Homeowners should schedule regular pressure cleaning with us to prevent mildew, dirt, and bugs from destroying the exterior of their homes. Our team provides the most advantageous cleaning services and pressure washing Summerville SC homeowners love, such as increasing the value of your home, while also selling and making home exteriors aesthetically pleasing.
Rated #1
in the Low Country since 1988
Not only will we use our pressure washing techniques to transform your home exterior to what you desire, but this is a great and affordable way to renovate your home within a short period of time. Moreover, pressure washing helps identify other problems in houses before they become worse, as we thoroughly inspect other surfaces in the home, which helps us identify any rotted wood or other problems that usually go unnoticed until the last minute of the procedure.
We offer professional pressure washing Summerville SC services to residents in Charleston, SC and other areas as well. Because pressure washing is also important when you want to paint the exterior of your home, we will remove dirt, mold, bugs, and mildew, especially since they all prevent the paint from adhering to the wall surface.
To pressure wash your home's exterior, hire experienced professionals like us. Not only have we been satisfying our clients for years, but we will ensure that you earn the desired value for the amount of money you invest in our services. Moreover, we also offer additional services such as sparkle window wash and Plex Master.
 As some home exteriors are covered with so much dirt that you cannot even see the original color of the vinyl siding paint, and other driveways and decks have been blackened by grease and algae, these surfaces may be slippery and may pose a danger to everyone.
Power Washing Charleston SC
IF YOU NEED YOUR HOUSE CLEANED, CALL THE KING!
Pressure Wash King works hard to ensure that all of our clients get the results they need, which has enabled us to sharpen our skills and deliver the best cleaning services. Because we use high-quality cleaning products that remove dirt from surfaces and prevent them from accumulating, we have been offering pressure cleaning services in the Charleston, SC area, as well as the whole of the lowcountry/tri-county area, for decades. 
Pressure Wash King is the most exemplary of the cleaning businesses because we not only have a lot of experience and expertise, but we also do it with passion, as in we will clean your house as if it is our own and ensure you get value for the money you invest in our services. Not only have we worked with more than 20,000 customers who were very satisfied with our services, but many have left wonderful reviews about the company's services, especially since we offer very affordable cleaning services, now charging $99.95.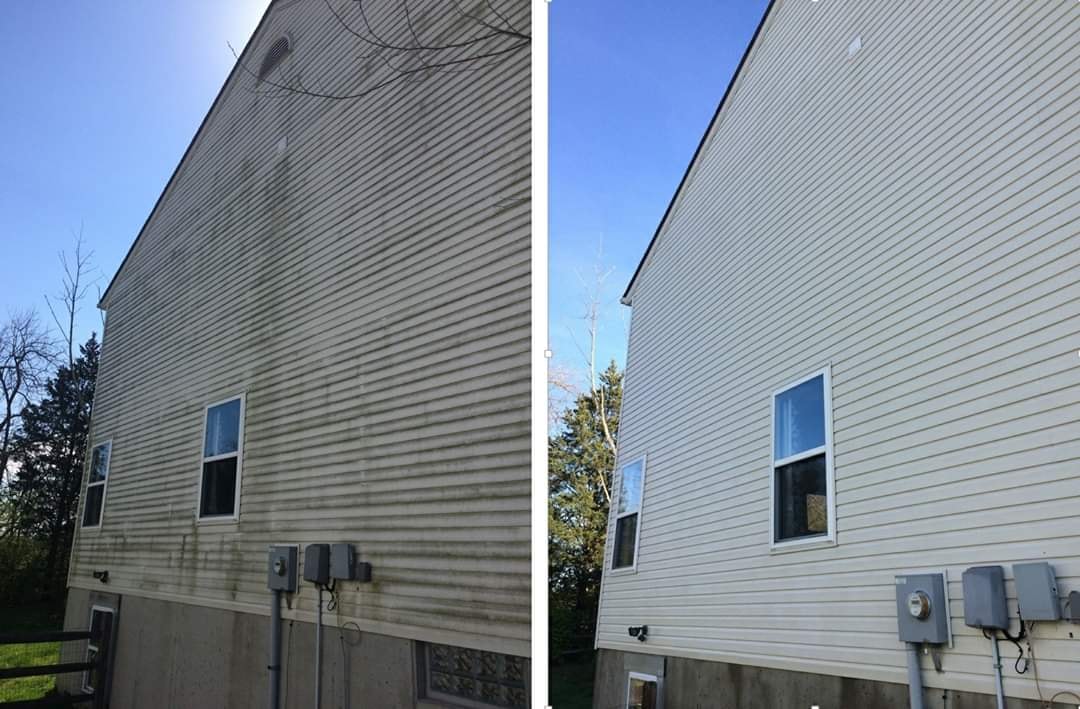 Pressure Wash King knows that mildew and bugs can quickly accumulate on vinyl siding over an extended period of time. Since the build-up may be caused by weather conditions and elements of nature, we offer affordable Charleston pressure washing services to remove the dirt and grime on either your vinyl-sided housing or business premises through pressure cleaning. 
Although wooden fences and gates provide homes with security, they easily accumulate mildew and dirt over the years, which may result in rotting, and therefore, require cleaning. Since fences and gates are the first sight that visitors will see when they come to your home, everyone wants their gates to look as clean as possible, which is why we are here. To save you money and time, our expert pressure washing Charleston SC residents rely on the King!
The best way to spruce up your driveway on a budget is by calling us, as our team will provide the best power washing Charleston SC residents desire by removing any dirt, and making it look close to brand new! By doing so, our services will improve the general appearance of your house, as well as increase the value of your home! Our expert services of power washing Charleston SC locals rely on will prevent you from needing any expensive driveway repairs in the future.
Pressure Washing Summerville SC
We provide excellent pressure washing Mt Pleasant SC  homeowners love, which also include cleaning painted siding, concrete areas, stucco, and wood decks. Since we provide long-lasting and preventative cleaning that slows down the build-up of algae, mildew, dirt and bugs, you can rely on our professional workers who efficiently complete the job. Hence, our clients are usually very satisfied with the high-quality and effective work we do to provide quality pressure washing Mt Pleasant SC locals can rely on as the company that is ready to assist any client who needs pressure cleaning services.
We also offer professional pressure cleaning services for business premises, as they need to portray the right brand image to their clients. We clean exteriors of business premises so customers and workers can feel more comfortable doing business there. Our passion is to keep home and business exteriors as clean and attractive as possible through our professional pressure cleaning services. Since we also have superior customer service and respond to questions quickly, reach out to us if you're looking for excellent cleaning services, as we will deliver excellent results.
Jan Reed
@Jan Reed
I have used them for 3 years! Outstanding! I called Friday and they were here on Monday. They do an outstanding job!!!
Amanda Mitchum
@Amanda
Quality service at a great rate! I found Pressure Wash King through neighbor recommendations. We got a reasonable quote for our large house when we made the appointment, and the technicians showed up on time. They got the grime off of our balcony and off the lattice on our side yard. Our driveway and sidewalk look amazing too! Will definitely use again in the future! 5 Stars! 2
Anthony Ogeen
@anthony
This guy is amazing. Very impressed by work and price. Could not recommend anyone over him in the area. Thank you and keep up good work!
Matthew Roberts
@matt
I just had my home washed for the 3rd time from the king and I am always amazed at how all the green and nasty dirt melt away and my 20 year old siding looks great.
CHECK OUT OUR FACEBOOK REVIEWS
ALSO SERVING:
Goose Creek, Hanahan, Summerville, Charleston, West Ashley, Mt. Pleasant, and all of the Tri-County Area!